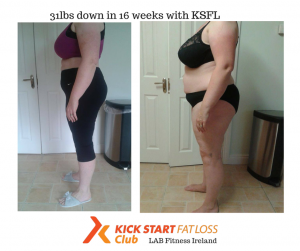 KSFL : "The Only Diet That Worked For Me"
Another cracking real life story from Our Irish KSFL Clubs
A 47 year old wife and stay at home mother of two has found her KSFL plan is the only diet that works for her.
After realising her diet was needed to change, and being embarrassed by old photos of herself,  Pamela  joined Laura Armarda Buch  KSFL class in Drogheda and lost a whopping
31lbs in 16 weeks.
She has never felt better.
"I feel absolutely amazing to say the least!
I have loads of energy and have a real spring in my step.
I don't suffer with bloating anymore and my skin is lovely and clear."
Pamela is another person who has tried ALL DIETS going & she says that no other diet has ever worked for her.
" I feel so positive about myself now, me & my whole family are easting better, and mytwo little girls think I look great"
Kick Start Fat Liss is not a faddy diet. Its about good clean food, no snacking and filling up on green veggies.
It really is  a long term, sustainable lifestyle plan.
"I would highly recommend Kick Start Fat Loss because I have tried so many other diets and this is the only one that worked for me.